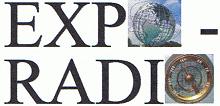 Expo-Radio
The New Technology of Internet Radio
&nbsp
Listen to all your favorite
Radio Stations! &nbsp Free!
Continue to HOME page

News/Talk/Sports:
Top 40:
Hip-Hop/ R&B:
Rock:
Soft Rock:
Oldies/ Classic Hits:
Country:
Classical/ Jazz:

ENTER SITE
For best results, use Windows 7 with Internet Explorer.

&nbsp
If you are new to the site, please take a moment and read our Terms of Service and Privacy Policy.
Contact Us
&nbsp
Creation Date: Dec. 6th, 2007
&nbsp
Copyright (c) 2010
All radio pictures used with permission of www.ClassicRadioGallery.com.